12AX7 Tung-Sol Preamp Tubes
Tung Sol 12AX7 ECC83 5751 7025
SKU code: 12ax7ts
Rated

4

/

5

based on

2

reviews.
Sold Out
If an item is marked "Backorder" then they could take up to 3 weeks to arrive and may delay your order
12AX7 Tung-Sol twin triode.
Tung-Sol Claim the following ""The Ultimate 12AX7. Big, warm, and musical. High Gain, ultra-low microphonics, and superb linearity with a dynamic 3-D sound.""
What I will say is that these tubes are without a doubt a high-quality preamp tube recognised as one of the best on the market.
The Tung-Sol 12AX7 ECC83 (sometimes call a 12AX7 and sometimes called an ECC83.. (both are accurate) is a twin triode running on 12.6V and 150mA in series or 6.3V @300mA parallel. Essentially this tube is two independent High-MU triodes utilising a 9 pin base (see any of our B9A range of sockets for the right base).
This tube works great for amplifying your sound but also works well as a phase inverter tube or in vibrato circuits.
A PDF has been attached, to show the tube specifications including the height and width of the tube.
22mm Glass Width
49.2mm Glass Height
55.5mm Tip of the glass to the bottom of pins height
Question: So do I use these?
Well, to be honest, I have to try and use all tubes to really get a handle on what works. That's my excuse for having so many amps, however, the short answer is yes. I definitely do. I find these tubes to work well in pretty well every amp I use but I do appreciate different tones. Often forums and blogs that have strong opinions are based on a preference for a tone although there are some tubes that appear to suit some amps better. If you want a definite answer then you probably need to consider the following.
1. What is your amp?
2. What style of music do you like to play?
3. What guitar do you use to play through this amp?
4. Look for people who have the same amp and like the same sort of music and ask them if they know any secrets
All these things have a factor in the sound.. as does the age of the caps, transformers, speakers etc. Just experiment or read a forum that doesn't know any of these things but has a strong opinion on the subject. perhaps they know something you dont..
Finally: Have you tried a tube roll pack.. 6 of the best preamp tubes around and you can experiment with tones.. once you find the sound you like then sell the remainders to a friend or on ebay ;)
What is the ideal use for this tube?
The 12AX7 is a 9 pin tube commonly found in the preamp stage of guitar amps.
It is also highly recommended for studio pre-amps and hi-fi gear.
Great bang for the buck.. a good all-around performer without paying too much.
Every wanted to know more about the 12AX7 visit this link 12AX7
Always in stock ready to go. Evatco keeps the brands you love and all at a great price.
Delivery to metro cities is usually 1-2 days (depending on when your order) Stock is usually sent same day (working day) when placed by 12noon Brisbane time.
"
| | |
| --- | --- |
| SKU | 12ax7ts |
| Brand | Tung Sol |
| Shipping Weight | 0.0200kg |
| Shipping Width | 0.050m |
| Shipping Height | 0.050m |
| Shipping Length | 0.090m |
| Unit Of Measure | ea |
| Assembled Length | 0.070m |
| Assembled Height | 0.020m |
| Assembled Width | 0.020m |
Tung Sol for my Messa Boogie

31 March 2021

I was apprehensive changing the original tubes that came with my Messa, that is the Messa 12AX7 or the recommended upgrade SPAX7-A to using the Tung Sol 12AX7 ECC83 but i am adventurous and changed to the Tung Sol. As a lead guitarist, we are always looking for that sound on a note that would be unique and it is the reason I took to mix and match my tubes to achieve that sound I'm looking for in a note. This Tung Sol tube has given me a sound on some notes I really like playing more than others to be really more meaningful and cut through the rest to be heard and feel good. I am happy i took the step to change tubes in search for that slight novel note sound. I'm going to give this Tung Sole a four star rating as I would do for any tube because there will is always be another sound from another tube that I may also like.




(4)
Good Low and High

12 August 2018

In my experience, this have very good low and good high...mids are ok as well but I find GoldLion gold pins to have better mid compare to this one. Recommended.




(5)
Related
products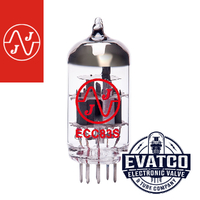 12AX7 ECC83s 7025 JJ Electronics
From $37.40
More From
This Category