AK-5 AMP
Author: kevin M Date Posted:3 November 2017


Note: Valve Amplifiers may contain deadly voltages even when turned off and unplugged. If you do not know what you are doing then seek help from an amp technician. This product is designed for technicians with an electrical background who want to start with a simple amp build.
The AK-5 is a pre-bundled package that allows the creation of a 5-watt amp that utilises a single 12ax7 preamp tube and an EL84 Power tube.
This produces a great sound especially for getting that vale tone at a level that is usable at home.
Who should build this? Ideally, people who have a trade linked to electronic engineering or amp repairs. It's a great project, however, the amp has the ability to hold charges that may cause shock or even death even when unplugged.
Evatco will not support amp build questions. If you know what you are doing then I would suggest you seek an amp technician to build this for you.
Everything thing is there to make a great amp from the parts. Pictures are provided as general interest information and may vary slightly from the documentation e.g. colour of wiring etc. I personally do not use this colour wiring scheme or wrap wires this way, the purpose was to try and clearly show where wires were leading as a general piece of information.
When released:
Included are all the parts you need to bring this amp to life plus a schematic, a layout plan, and templates for drilling the chassis. The parts included are all great quality including the transformers and chassis which are Hammond, the turret board is military grade G10 Glass 3mm thick and the jacks are Cliff. The potentiometers are Alpha and the face plates are custom made engraved plastic so they last without fading or wearing off.
This build is designed to be simple and allows for plenty of room to work in. A 5 watt model with a single 12AX7 and EL84.
Here are few sound clips to whet your appetite. Nothing over the top.
Recorded on a 1990s Strat through a Shure SM57 mic on a Line 6 12inch Cab. I kept all tones knobs at 12 o'clock and there were no effects on the amp. The final sound had a slight room reverb put on it to try and reflect the sound I was hearing whilst playing. I must say the recording doesn't do the amp justice and certainly isn't as bright or lively as it is playing it live.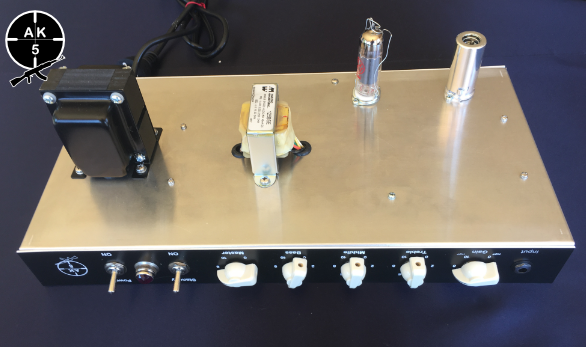 Bridge Pickup Master Vol 7 Gain 2 The amp has a nice break up yet still remains clean.
Neck Pickup Master 7 Gain 2 Once again that beautiful clean sound yet a bit broken up when pushed.
Middle Pickup Master 7 Gain 2 You can hear how clean it sounds until you dig deep with the pick.
Now with the Gain turned up to around 3/4
And yet it is still clean
Front and Back faceplates are engraved plastic so the numbers and letters will never wear off whilst still looking professional.
Note: The parts you receive may differ slightly as this was the test model and we have refined the build to make it simpler since then.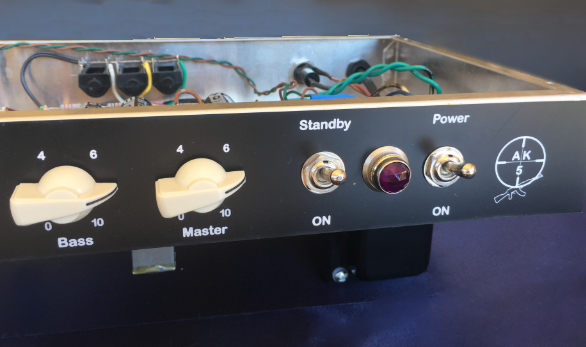 .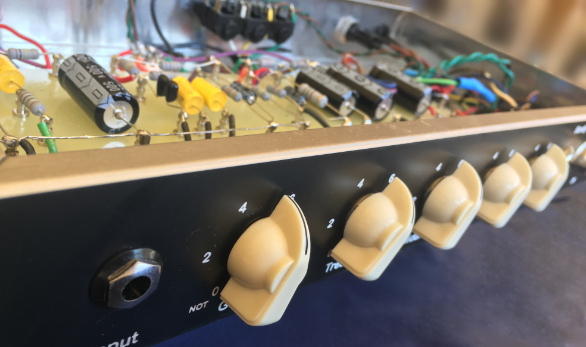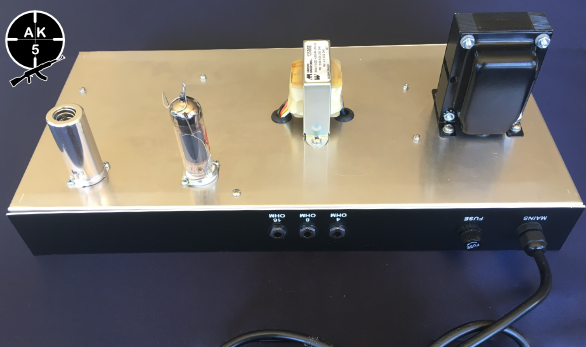 If you are interested in one of these please email info@evatco.com.au to reserve... How much you say.. we are still finalising this.